Introducing Playhouse Parties' Exclusive Party Bags: Stress-Free Fun for Every Celebration!
Are you tired of the same old hassle that comes with planning your child's birthday party? Are you looking for an easy and convenient way to make your child's special day even more memorable? Look no further! Playhouse Parties is thrilled to introduce our brand-new offering that will take your child's party to the next level: Party Bags!
Stress-Free Celebrations
At Playhouse Parties, we understand the challenges parents and caregivers face when planning a children's party. From coordinating entertainment to preparing food and decorations, the to-do list can feel endless. That's why we've taken a step to make your life easier and your child's celebration even more exciting.
The Perfect Addition to Your Party
Our Party Bags are designed to complement our entertainment offerings seamlessly. Whether you're booking a magician, a princess party, a superhero adventure, or any other entertainment package from Playhouse Parties, you can now enhance the experience by including our age-appropriate Party Bags.
What's Inside?
Each Party Bag is carefully curated to suit the age of the Children, we may also be able to theme some of the gifts to the party too – subject to availability. Inside, you'll find a delightful assortment of seven gifts that will keep the little ones entertained and excited. We believe in quality over quantity, so you can trust that each item is chosen with care and thoughtfulness.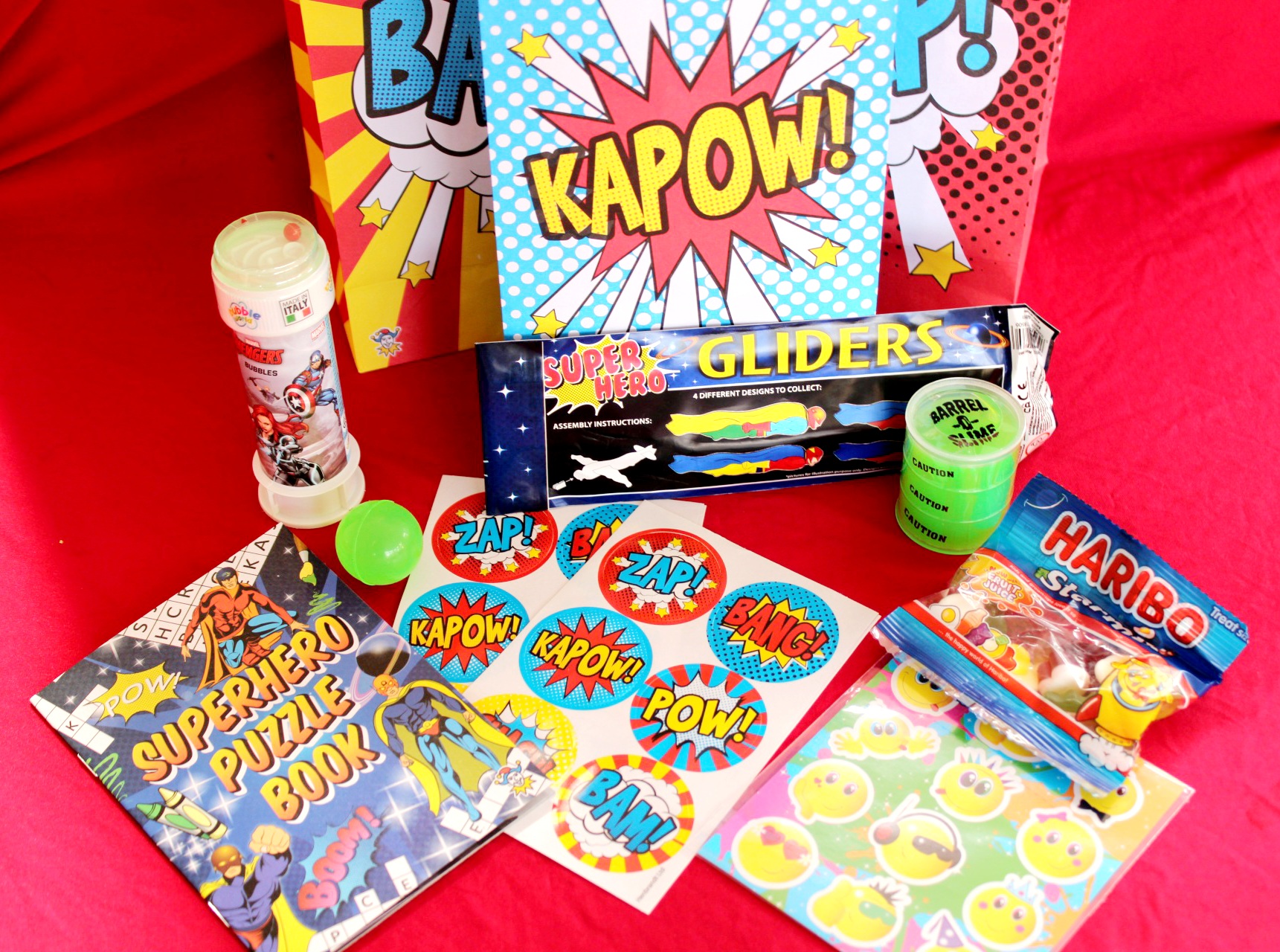 Stress-Free Ordering
We understand that party planning can be overwhelming. That's why we've made the process of ordering Party Bags as easy as possible. When booking your entertainment package with Playhouse Parties, simply select the option to include Party Bags for just £3.50 each. This price includes delivery, so you don't have to worry about any hidden costs.
Ready to Display
We want to save you time and effort. Our Party Bags come ready to display at the birthday party. You won't have to spend precious moments packing individual bags – we've got that covered for you. Simply place them on the party table, and watch as the children's faces light up with excitement.
A Stress-Free Solution for Parents and Caregivers
Our Party Bags are more than just a thoughtful addition to your child's celebration; they're a stress-free solution for parents and caregivers. By including our Party Bags with your entertainment package, you can:
– Save Time: No need to shop for and assemble party favours.
– Reduce Stress: We handle the details, so you can focus on enjoying the party.
– Make Memories: Your child's party will be unforgettable with these special treats.
Book Your Party Bags Today!
Make your child's birthday party even more memorable and stress-free with Playhouse Parties' Party Bags. With age-appropriate gifts and hassle-free delivery, you can't go wrong. Simply add Party Bags to your entertainment package for just £3.50 each, and let us take care of the rest.
Contact Playhouse Parties today to book your next unforgettable celebration. We're here to make your child's dreams come true and create magical memories that will last a lifetime. Don't miss out on this fantastic opportunity to enhance your child's party – order your Party Bags now!
Celebrate with Playhouse Parties and let us bring the magic to your child's special day. Stress-free, fun-filled, and unforgettable – that's what we're all about!