This Halloween is looking very different due to Covid-19 and the Government restrictions but fear not you can still give your little monsters their spooky fix with a fantastic children's Halloween party with Playhouse parties. We are offering a fantastic range of Halloween party packages available to book.
Firstly, we are still offering live performances for groups 6 and under or whatever number currently adheres to Government guidelines. These can be hosted by our Wacky Ghost or Spooky Vampire to give your guests a spook-tacular and fun adventure full of children's magic and party games all Halloween themed.
We are also excited to launch our Virtual Halloween party this October for anyone in the entire world to enjoy. Broadcast and streamed to your device in the comfort of your own home. Our party will be hosted by our Spooky and silly Ghost live from his Haunted house and will be full of Magic, party games and spooky story-telling. It is a Children's party show perfect for children aged 4-8 years. Our Virtual Halloween party can be enjoyed by up 30 families/ households at the same time so is perfect for any Children's birthdays or of you want to host your very own Halloween party. This package can be booked by private or corporate clients, get in touch for availability.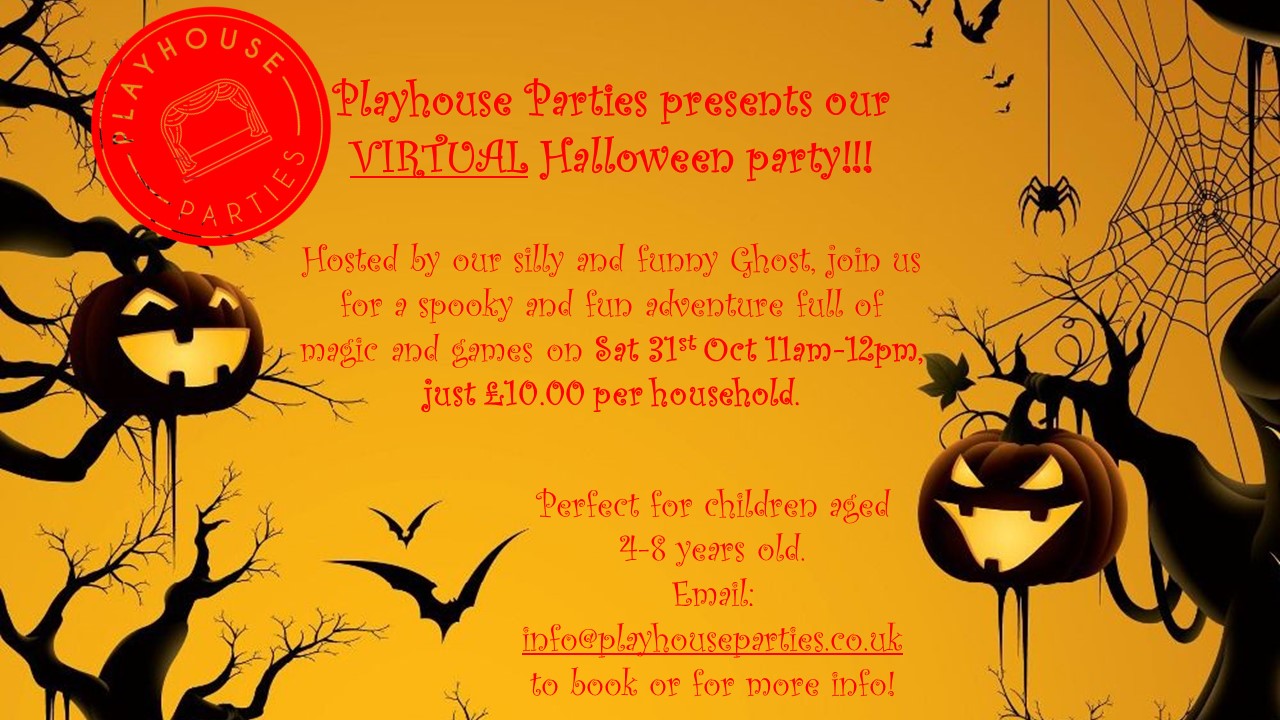 We are also hosting a Halloween party on the 31st of October from 11-12, tickets are just £10.00 per household and you are all invited. We have limited availability for this to please email to book your ticket: info@playhouseparties.co.uk.
Our Kids Halloween party offering is sure to give your children an experience they won't forget and will also allow the Children to enjoy a spooky party in the safety of their own home. To discuss your Children's party with us please call/ email: 07793 766478 / info@playhouseparties.co.uk.